Slovene center for suicide research
Slo:
---
November 2013
:
We launched a new web station for understanding suicide:
Živ? Živ!
[Alive? Alive!]
So far most of it is in Slovene only, but the design speaks for itself ;) Check it out!
---
Suicide is a complex phenomenon connected to a number of risk factors, while its prevention is based on protective factors and their empowerment. In the last decade, the suicide rate in Slovenia has declined, which is a very positive trend. Among the reasons for the decline is most likely higher awareness about suicide as a public health problem among people.
Slovene Center for Suicide Research (SCSR) is an independent unit within the Andrej Marušič Institute (University of Primorska, Slovenia). Founded in 2011 by Prof. Diego De Leo and a group of Prof. Marušič's former co-workers, SCSR is advancing professional work of one of leading Slovenian figures in suiciodology.
Our team of ten experts is currently involved in several suicide prevention and postvention projects within the EU. Our goal is to gain in-depth understanding of suicidal behaviour through research and clinical work in the field of mental health.
The Center's vision is to provide high-quality research to be able to better understand and explain suicidal behaviour, thus contributing to both suicide prevention and postvention.
The aims of the center are:
To contribute to reducing suicide rates in Slovenia.
To effectively prevent suicidal behaviours, both fatal and non-fatal.
To use a wide range of high-quality research methods in order to better understand and explain suicidal behaviour.
To carry out research in a multi-level, multi-disciplinary way that can be implemented flexibly in various cultural contexts.
To provide effective intervention, treatment options, and postvention activities.
To fight stigma associated with suicidal behaviour.
To disseminate the latest knowledge in the field of suicide within the general public and field professionals.
To engage in different events and media in order to bring together people from academia, government, NGOs, and general public.
To provide education and training opportunities for university students and other interested parties.
To be a part of national and international associations and research networks.
To contribute to the implementation and evaluation of a suicide prevention strategies (national suicide prevention strategy is in progress).
Projects
Individual experiences with suicidal behaviour

Education of police
You wish to take part in our programmes?
Let's talk about suicide and youth

Let's talk about suicide and depression among elderly
---
PEOPLE
Head: Diego De Leo
Deputy head: Vita Poštuvan
Researchers: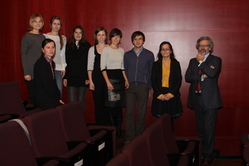 Other coworkers, academic professionals and clinical staff is collaborating with us within our projects and students are welcomed to do their internships with us.
---
CONTACTS
Contact email: info.scsr@upr.si
We can be reached also through other contact details of IAM.
Če čutite hudo duševno stisko ali imate samomorilne misli, poiščite strokovno pomoč v organizacijah, ki nudijo neposredno pomoč. Lahko se obrnete na svojega osebnega zdravnika ali na:
116 123 – Zaupni telefon Samarijan in Sopotnik (24h/dan)
116 111 – TOM telefon otrok in mladostnikov (med 12. in 22. uro)
01 520 99 00 – Klic v duševni stiski (med 19. in 7. uro zjutraj)
---
---
OUR PROJECTS AND WORK
SEYLE: Saving and Empowering Young Lives in Europe: Promoting Health through the Prevention of Risk-Taking and Self-Destructive Behaviours
The project aims to gather information on mental health and lifestyle of adolescents, to identify risk factors for mental illness in young people and to raise awareness about mental health among students and people who are in contact with them on a daily basis (parents, teachers, school staff).
More than 13,000 pupils from 12 countries participated in the study, supported by the European Commission. The research project plan is identical for all countries involved and it was approved by The National Medical Ethics Committee of the Republic of Slovenia. The project is additionally supported by the Ministry of Health of the Republic of Slovenia.
Funding: The Seventh Framework Programme of the European Commission

Duration: 1 January 2009 – 31 December 2011

Head of the project in Slovenia: Vita Poštuvan

Project web-site: www.seyle.eu
More than 1,100 students, 400 teachers and 20 mental health professionals participated in the study in Slovenia.
Articles already published within the project:
---
WE STAY: Working in Europe to Stop Truancy Among Youth
WE-STAY is a project for improving mental health of adolescents with the following objectives:
gathering epidemiological information on truancy in European adolescents;
performing school-based intervention programmes for adolescents, aimed at reducing truancy rates and improving mental health of youth through it;
evaluating outcomes of the interventions from a multidisciplinary perspective; and finally
recommending effective, culturally adjusted models for preventing truancy and promoting mental health of adolescents in Europe.
The interventions aim at improving adolescents' mental health through prevention of truancy in European high schools. Reports about higher risk for e.g. alcohol and drug abuse, delinquent behavior and school dropout among adolescents with higher truancy, have addressed the importance of research and prevention of truancy. Adolescents who often skip school are frequently outside of adults' control and receive less support from peers, which can lead to development of risk behaviors. Truancy is also associated to higher risk for suicide ideation and suicide attempt.
A number of different interventions are implemented in the WE STAY project: teachers' education, screening and identifying adolescents at risk, mental health workshops for students, information for parents. The interventions are implemented in six European countries. Recommendations on effectiveness of interventions to prevent truancy and promotion of adolescents' mental health will be the outcome of the results.
Co-Funding: The Seventh Framework Programme of the European Commission

Duration: 2010 – 1013

Head of the project in Slovenia: Vita Poštuvan

Project web-site: www.we-stay.eu
---
OSPI: Optimizing Suicide Prevention Programs and Their Implementation in Europe
The goal of the project is to provide EU members with an evidence based suicide prevention programs, to develop and disseminate concrete materials, instruments and recommendations for proper implementation and evaluation of these interventions.
Funding: The Seventh Framework Programme of the European Commission

Duration: 1 October 2008 – 30 March 2013

Coordinator of the project in Slovenia: Vita Poštuvan

Project web-site: www.ospi-europe.com
---
Do you understand (yourself)?!? [Slovene: A (se) štekaš?!?]
We empowered students, parents and school personnel (including staff, teachers and counselling services) for prevention of mental illness, unhealthy lifestyle and suicide prevention within this project. We introduced an integrative approach that includes workshops for students, providing information for parents, education for teachers and school personnel and cooperation with counselling service. This way we familiarized adolescents with mental health issues and acquainted them with the methods and instruments for coping with difficult and stressful life situations. Parents and school personnel (particularly counselling service) were acquainted with various forms of assistance, activities and instruments for recognizing and assisting adolescents in distress.
Co-funding: Ministry of Health of the Republic of Slovenia

Duration: 2011 – 2012

Head of the project: Vita Poštuvan
Research activity within the programme was examined and approved by The National Medical Ethics Committee of the Republic of Slovenia.
---
An introduction to new intervention strategies for reducing suicidal behaviour in Slovenia
The project focuses on personal experiences with suicidal behaviour. It introduces new intervention approaches for vulnerable groups and provides training to major occupational groups for the prevention of suicidal behaviour.
Funding: Slovenian Research Agency (ARRS)

Duration: 2010 – 2013

Head of the project: Prof. Diego De Leo, DSc

Coordinator: Vita Poštuvan
Individual experiences with suicidal behaviour
The project includes a study of individual experiences with suicidal behaviour, the aim of which is to increase our understanding of suicide through a different, qualitative approach (which is often overlooked, although it has become increasingly recognized as very important in recent years). The study received an international award at the Atlas.ti (i.e. qualitative data analysis software) competition, for the most innovative and useful research in progress.
This part of the research is based on two PhD projects in the field of psychology which use the method of in-depth interviews with individuals to study suicides from different perspectives. The study includes individuals who have had suicidal thoughts or attempted suicide, and people bereaved by suicide.
Let's talk about suicide and media
In cooperation with Institute of Public Health we published guidelines for responsible media reporting on suicide in a publication Let's talk about suicide and media in 2010. Further on, workshops for journalists and editors of interested media corporations from different Slovenian regions were conducted. Since the guidelines were published, we have been following media coverage of suicide-related topics and warning journalists and editors about media influence on suicide risk.
Education of police officers
We cooperate with Slovenian Police in education of police peers and police officers about risk and treatment in case of suicidal behaviour.
Programme NARA: Managing stress and depression through mindfulness
Within programme NARA, which is based on Mindfulness-Based Cognitive Therapy (MBCT), we introduce effective interventions for enhancing mental health. We introduce simple meditative techniques, with which participants direct their attention from less efficient mental processes (e.g. rumination) to full awareness of present moment ("here and now"). This way they acquire better coping with stressful life situations and managing or preventing depression.
Until April 2013, we offer free participation in the program for individuals from vulnerable groups.
The programme consists of 8 weekly 2-2.5 hour classes (plus one all-day session).
We prepared more information about the programme for the Slovene-speaking readers in a booklet (click on the picture below to open it).
Slovene-speaking audience can also listen to a podcast of the radio show Youth to youth (Slovene: Mladi mladim, from 4:53 to 9:58), in which a few of the participants commented on the program.
DATES, LOCATIONS AND DETAILS OF ACTIVITIES OF THE PROGRAMME NARA
Ljubljana
Centre for daily activities

Fužine

(start: 6 December 2013)

Led by Alenka Tančič Grum

Group for people experiencing stress or depression (in collaboration with NGO organization DAM)

Led by Dejan Kozel and Janina Žiberna (Janševa 18, Ljubljana)

Period 1: on Wednesdays, 16:00 (start: 9 January 2013)

Period 2: on Mondays, 16:00 (start: 14 January 2013)

Led by Ana Petrovič and Tina Podlogar

Period: on Fridays, 16:30 (start: 18 January 2013)

Patients with cancer (in collaboration with the Department of Psycho-oncology, University Clinical Centre Ljubljana)

Led by Dimitrij Banda and Katja Zupančič

Patients in the rehabilitation centre SOČA

Led by Ana Petrovič and Tina Podlogar
Maribor
The day care centre Ozara Maribor (start: 3 December 2012)

Led by Vita Poštuvan and Tina Podlogar

The student counselling service ŠOUM (Gosposvetska 84, Maribor)

Led by Vita Poštuvan

Period: on Mondays afternoon (start: 14 January 2013)

Group for people experiencing stress or depression (start: the first week of January 2013)

, l

ocation:

counselling

centre

,

Lavričeva

5, 2000

Maribor

Led by Urša Mars and Miran Babič

Period 1: on Tuesdays, from 19:00 to 21:00

Period 2: on Thursdays, from 17:00 to 19:00
If you wish to participate in the programme, please write to the following address: nara@upr.si or dial the following number: 040 490 580.
The programme will be performed in a closed group of up to 15 people (therefore it is not possible to participate in only one session). The participants commit to attend all sessions because the programme is an integral whole. We accept applications until sessions are full.
You can also follow the event at our Facebook page.
The research part of the project was approved by The National Medical Ethics Committee of the Republic of Slovenia.